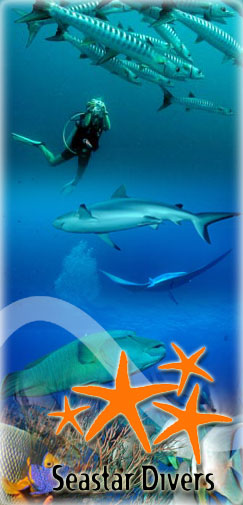 Because of it's location in the centre of Ari Atoll, Seastardivers offers dives to more than 30 dive sites. Some can even be found on the top-ten-lists of the Maldives/100 best dive sites in the world. These include Fishhead, Maaya Thila or Maalhoss Thila.
You will see a variety of fish from Mantas, Grey Reef sharks, Turtles and Rays to the more camouflaged scorpion fish and frogfish and small animals like nudibranches and shrimp.
We use a typical Maldivian dive-dhoni for all the trips around Kandholhu. The Boat rides range from 5 minutes to 1 hour and 15 minutes.
If you are already a certified Nitrox-Diver you can dive here with Nitrox!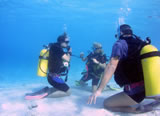 A dive instructor or divemaster will always lead your dive and guide you through the underwater world. Because of the small number of bungalows on Kandholhu, dive groups are always very small and personal care is guaranteed.
Don't forget that Kandholhu has its' own decompression chamber. Although we hope you never need it, it's presence on the island is reassuring.
The Dive School on Kandholhu is called 'Seastar Divers'*, the equipment is very modern and we offer our guests everything from Masks and Fins to dive computers.
* 'Seastar Divers' is a trading name used by the company Rasdhoo Atoll Divers.